Norbulingka Institute is located approximately 25 km from Mcloedganj and easily reached by road. This place concentrates on the traditional arts of crafts of Tibet.Outside West Bengal We visited many museum but it's different type of museum-the doll museum.
Beautiful and work of art :-
This is one of the best collection of Tibetian lifestyle.The architecture of the whole premises is fantastic. It's more like a complex which has a museum, temple, offices, shops & some workshops where the locals make all the stuff like wood paintings, clothes etc. The temple was just like any other monastery. You will have access to visit all classroom where you can see different artistic work. The Museum structure is very nice.full of trees and small channels of water in premises.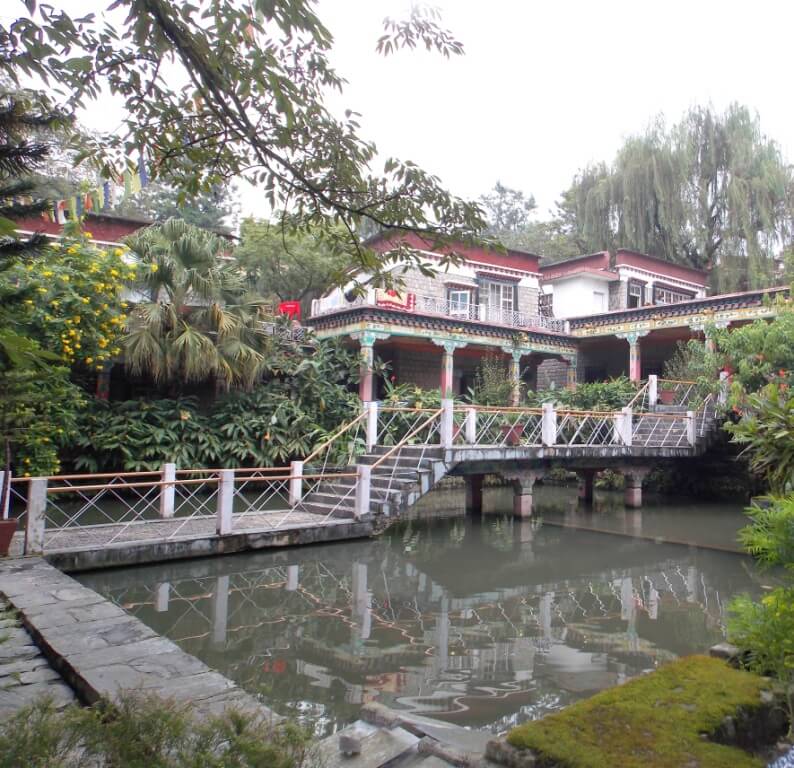 The main interesting part of the institute is the Doll museum, arts and craft center where you can see the workers making the artefacts in front of you. The articles are then sold in the shop but at exorbitant prices. Tibetian gongs, lamp shades, wall hangings and paintings can be bought.
This is Dalaim lama's personal Monastry, located outskirt of Dharamshala with beautiful Architecture & complete tranquility. IT charges you 20 Rs fee for entry (which should be ok).
You will love the place if you are an arts and culture lover.
This is a very well maintained place with calm and peace. The entire place is extremely well maintained.
There is a shop and a cafe also.A whole day will be passed here only if anyone wants to see.its highly recommended to visit.It is seen in this place may artists paintings & crafts.really they are hardworker and good artist also. Its a very peaceful place and different experience.institute that is trying to preserve Tibetan art Forms like painting, wood carving.
Some More info :-
Address :- Norbulingka Institute PO Sidhpur Near Dharamsala, Distt Kangra, Himachal Pradesh, 176057, India
phone :- +91-94184-36410 | +91-1892-246405
Website :- http://www.norbulingka.org/
Carry list :- Good Camera and water bottle.
Shopping – Handscrafts things are famous in this place.
Kolkata to Himachal Pradesh 9 nights and 10 days Tour plan :
Date – 05/10/2010-14/10/2010
Tour Members : 17
Tour plan :
Day 1 : Howrah to Pathankot by train Jammu Tawi .
Day 2 : In train.
Day 3 : Reached Pathankot. Pathankot to Dalhouse by car..
Day 4 : Dalhouse sightscene . Kalatop, Khajiyara, Chamba, Night stay in Dalhouse..
Day 5 : Dalhouse to Dharamsala, Sightscene : Tilokpur..
Day 6 : Dharamsala Sightscene : Joyalamukhi, Chintapunni, Brojeswari.
Day 7 : Dharamsala Sightscene : Chamunda Mandir, Narbulinka Monestry, HPCA stadium..
Day 8 : Dharamsala to Amritsar Via Panchpulla. Amritsar : Jaliwanabagh and Golden Temple. Train : Amritsar to Howrah.
Day 9 : In Train.
Day10 : Reached Howrah.
Hotels Information :
Dalhouse : Hotel citilight (www.citylighthotel.com) Address: The Mall, Gandhi Chowk, Dalhousie, Himachal Pradesh 176304.. Phone: 083770 04514
Dhramsala : Hotel Aman Deep
Address: McLeodganj Rd, Loharkadi Upper Sudher, Dharamshala, Himachal Pradesh 176216
Phone: 0189 222 6394..
Himachal Pradesh tour Map
Now its Your turn, what is your travel experiences on this place?
Thanks
Team Exploretours
My name is Supriya Kumar Mitra. It is the diary of travel experiences of some passionate travelers. We are sharing our tour experience in this site. As the name Exploretours is a blog on everything that leads to travel. To us, tour is not memory or images its connect to nature.. This website is dedicated for those who love to travel..
Follow us On Social Media
Facebook | Instagram | Twitter | Google Plus | Youtube | Pinterest | Flickr | Tumblr
---

Hello,
I'm Supriya Kumar Mitra,
I started this blog in 2015 end, My blog, Stories, aims to inspire families to travel together and explore the world together. First of all I am very lucky that, My parents turn me in such a beautiful places. We love to travel and explore new destinations, new culinary experiences and just explore the world together. We wanted to help others too through our blog, by giving tips and recommendations for a destination. You can also Read
My First Featured Interview