We started our journey on the 2nd day at Benaras, some beautiful places exist there.
We have already been writing about this place. Ramnagar fort is one of the famous forts of Benaras. Now we would point at another significant place of Benaras tour.
Saranth is the city ….it is situated at the north-east of benaras some 13km away from the city. Different statue of budha's life have been discussed in this monestry.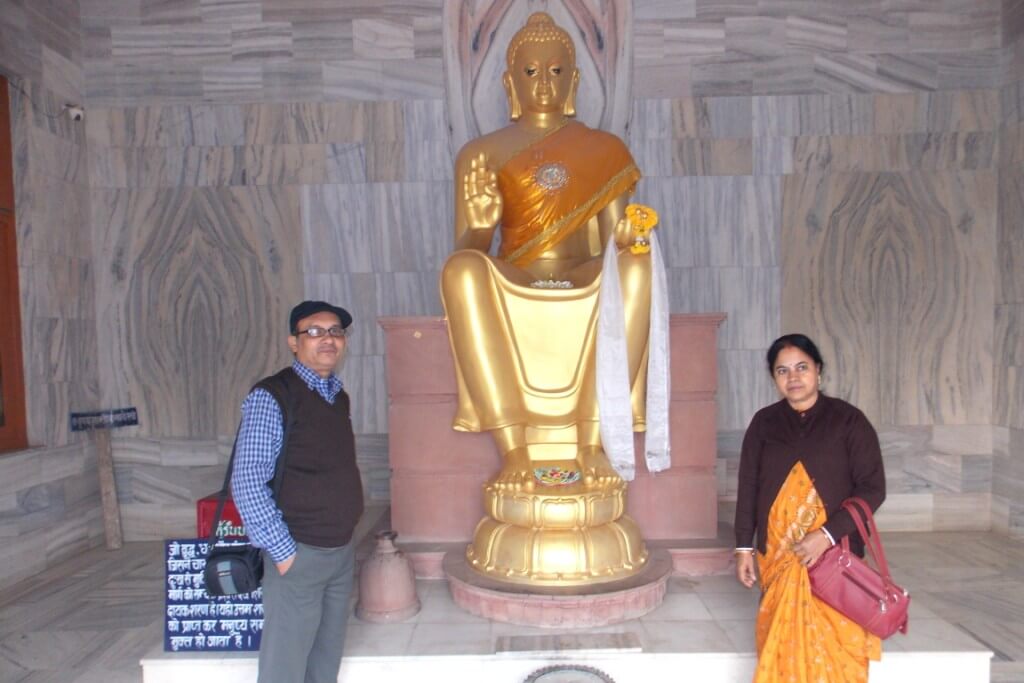 This monastery has occupied huge place. This type of place is not new because we have already seen this type of monastery in Budhy gaya and puri. The sole attraction of this place lies in its beauty and serenity.


VISHU TEMPLE:-
Vishu temple is one of the significant attraction of benaras. It is also a temple. People gather here to worship a long queue is for. Benaras University is situated at front of this temple. The University campus is very huge. It comprises a local market as well which is also located at the front of this temple and here selling different type of gift product.




RAMNAGAR FORT:-
This is one of the best places of benaras. This place is more attractive than other places of benaras. The Bengali movie HarHarBomkesh was shot here. The Rajbari covers a wide area. One temple and a museum also fall within the premises of rajbari. People don't miss Ramnagar fort in benaras. It is a must visit place.


"I travel a lot; I hate having my life disrupted by routine."

– Caskie Stinnett
Benaras is a tourist's delight. It is one of the oldest cities of the world. It has been a lifelong wish to visit Benaras which finally came true in 2016.
Kolkata to Benaras 4 nights and 5 days tour plan :
Date – 22/01/2016-26/01/2016
Tour Members : 10
Hotel information :- Sri Vireshwar Ashram, Contact Person : G. C Tripathi M : 09335386307
Tour plan :
Day 1 : Kolkata to Benaras.
Day 2 : Morning : Visit local Market. Afternoon : Visit Gangar Ghat By boat
Day 3 : Sightscene : Sarnath and Ramangar, Vishnu Temple
Day 4 : Biswanath temple visit , Back To Kolkata
Day 5 : Reached Kolkata
Some more info :
Notes : Some section in Ghats, people sell Benaras painting. These are very nice.
Carry list :- Good Camera, All daily wears, Camera.
You can also visit our full album : Click here.
<
div>
Benaras Tour Map
Now its Your turn, what is your travel experiences on this place?
Thanks
Team Exploretours
My name is Supriya Kumar Mitra. It is the diary of travel experiences of some passionate travelers. We are sharing our tour experience in this site. As the name Exploretours is a blog on everything that leads to travel. To us, tour is not memory or images its connect to nature.. This website is dedicated for those who love to travel..
Follow us On Social Media
Facebook | Instagram | Twitter | Google Plus | Youtube | Pinterest | Flickr | Tumblr
---

Hello,
I'm Supriya Kumar Mitra,
I started this blog in 2015 end, My blog, Stories, aims to inspire families to travel together and explore the world together. First of all I am very lucky that, My parents turn me in such a beautiful places. We love to travel and explore new destinations, new culinary experiences and just explore the world together. We wanted to help others too through our blog, by giving tips and recommendations for a destination. You can also Read
My First Featured Interview