Ever been to Dal Lake?
It's your loss if you haven't yet.
For me, it always rang Bollywood bells. Kashmir ki kali, Mission Kashmir, and the list goes on. So when I visited Kashmir in October 2009, my priority was to have a first-hand experience of this amazing place. And I did have the experience that I always longed for.
Let me share it with you.
Dal Lake is the best among all tourist attractions in Kashmir. It's the sole reason I still reminisce the trip, and with all honesty, traveling has never been such a fun-filled experience for me. The cherry on the cake was the shikara ride. Navigating through tranquil water, weather at its best, and my mind humming "chupke se sun, is pal ke dhun…" In one word, it was marvelous.
What I liked most about shikara riding is night-stay. You can spend the night on the houseboat. The sound of the water, the open sky with stars and the slow moving canoe can take you to a surreal world. Trust me on this, I've experienced it myself. Unfortunately, I had shortage of fund, otherwise I'd have stayed a whole night in a shikara…and maybe the night after that too, who knows?
If you think I am done here, you are wrong. There's more.
You can enjoy partying in a Shikara boat in the evening, the views of the lake and the surrounding areas are different in the morning, afternoon and in the evening, so select the timing based on your preference.
There's a very beautiful floating island on the lake. It's called Nehru Park. We visited the park and enjoyed. I wholeheartedly appreciated the garden's collection of flowers. The atmosphere in the park was serene and tranquil and flowers such as bougainvillea caught my sight.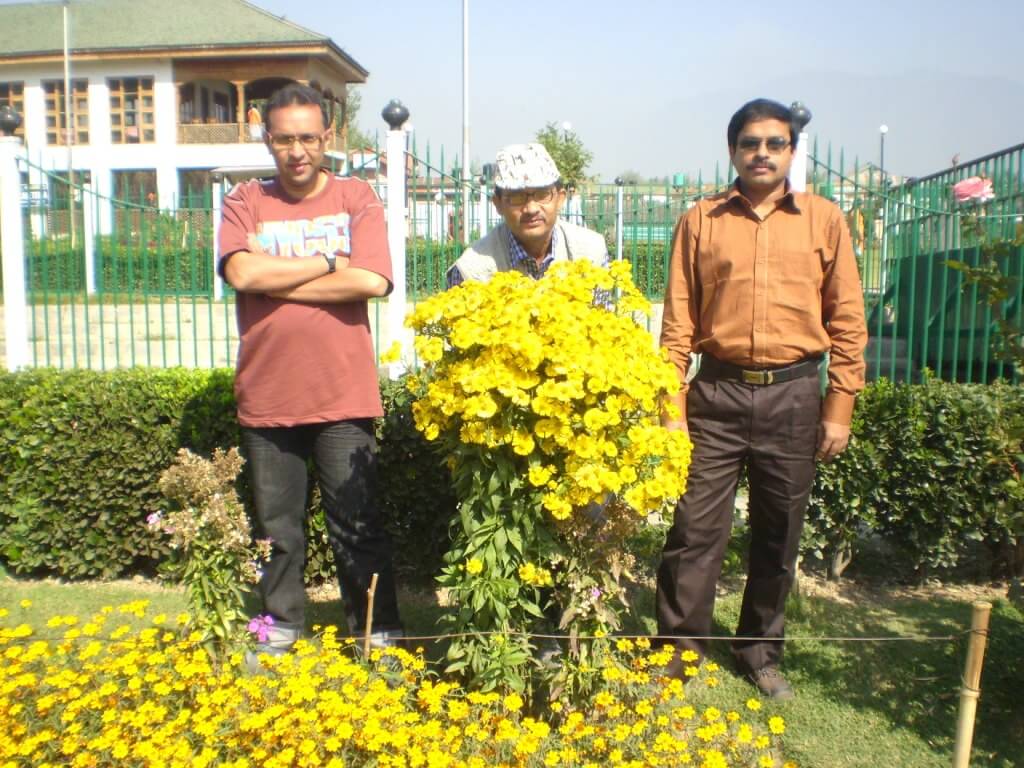 Dal Lake resembles Venice, there's a floating market in the middle of it that sells handicrafts, artworks, wooden items, showpieces and souvenirs. Since the price is way beyond the range of affordability, always bargain before buying. There's an Island on Dal Lake called "Char Chinar." The island got its name from four Chinar trees.
Some long stories shouldn't be cut short, only to be experienced in real life. So visit Dal Lake and discover the charm yourself.
<
div>
Kolkata to Kashmir 15 nights and 16 days tour plan :
Date – 25/09/2009 – 08/10/2009
Kashmir Tour Summary :
Tour Members : 10
Tour plan :
Day 1: Evening : Howrah to New delhi
Day 2: Evening : New delhi to Jammu
Day 3: Morning : Jammu. Jammu to Ramban by Car
Day 4: Ramban to Srinagar
Day 5: Srinagar Sightscene : Khirbhabani, Manasbal lake,
Day 6: Srinagar Sightscene :Dal lake, nehuru garden, Charminar, Chasmasahi, Sankaracharga Mandir, Parimahal, Mughal Garden, Hajaratbal
Day 7: Srinagar to Sonmarg
Day 8: Srinagar to Gulmarg
Day 9: Srinagar to Pahelgaon
Day 10: Pahelgaon sightscene : Baisaran.
Day 11: Pahelgaon sight scene : betab valley, Aru valley
Day 12: Pahelgaon to Katra
Day 13: Katra to Vaisno devi
Day 14: Katra to Jammu By car, then Jammu to New delhi by train
Day 15: Noon : Delhi to Kolkata
Day 16 : Reached Kolkata
Some more info :
Hotel information :
Srenagar : Hotel bahar, khayam road, Near Khyber Hospital, kashmir, Jammu and Kashmir 190001
Phone: 090703 33332
Pahelgaon :- Midows palace, Chandanwari Road,Pahalgam, Pahalgam , 192126
Katra : New sam guesy house, Many hotels available in katra.
Notes :- Please carry umbrella and water bottle and voter id card must. Kashmir is big tour, so prepare mentally and physically for the journey.
Shopping – Different type of wooden show piece, and gifts items available in dal lake.
Do and Don'ts :- Please try Gondola (Ropeway) in gulmarg, Kashmir. Try to maintain the cleaness of the places.
Now its Your turn, what is your travel experiences on this place?
Thanks
Team Exploretours
My name is Supriya Kumar Mitra. It is the diary of travel experiences of some passionate travelers. We are sharing our tour experience in this site. As the name Exploretours is a blog on everything that leads to travel. To us, tour is not memory or images its connect to nature.. This website is dedicated for those who love to travel..
Follow us On Social Media
Facebook | Instagram | Twitter | Google Plus | Youtube | Pinterest | Flickr | Tumblr
---
Garpanchakot trip for weekend lovers (Part 1)

Hello,
I'm Supriya Kumar Mitra,
I started this blog in 2015 end, My blog, Stories, aims to inspire families to travel together and explore the world together. First of all I am very lucky that, My parents turn me in such a beautiful places. We love to travel and explore new destinations, new culinary experiences and just explore the world together. We wanted to help others too through our blog, by giving tips and recommendations for a destination. You can also Read
My First Featured Interview