Interested in all adventures? Feel free to contact us at contact@exploretours.in We love to hear from you.
You may contact us for Home-Stay or Destination Review,Hotels,Text or Banner Ads, and also your Travel Story(http://www.exploretours.in/write-for-us/)
We offer our clients an array of advertising solutions customized for your brand. Please contact contact@exploretours.in or your existing account manager for details and rates.
We offer:
BANNERS (Yearly)
Leaderboard (728 x 60) Wide Skyscraper (160 x 600) , Square (200 x 200)
Creative Specifications
HTML Ad
Image Ad
SOCIAL ADVERTISING CAMPAIGNS
Our strong Facebook,Twitter, Instragram, Google plus community comprises of Bloggers and Travelers from all over India, and we can create advertising campaigns and promotions for your brand by leveraging this highly targeted community. In conjunction with banners on our website, this is the most effective way of promoting/highlighting your brand or launching a key product in India.
We offer a range of creative promotional and branding opportunities.
Promote your Destinations
Promote your Hotels and Tours
Sponsored Posts and Green Guides
Display Advertising
Brand Partnerships
Paid Social Media Mentions and Custom Hashtags
Paid Reviews, Contests & Giveaways
"Please contact@exploretours.in for any details."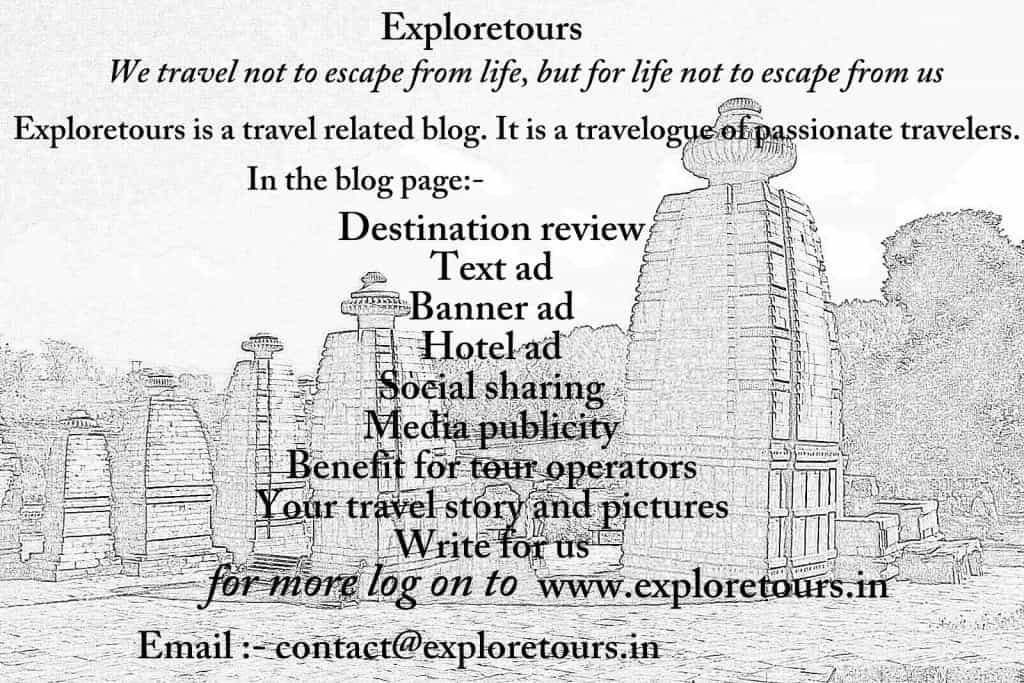 Testinomials
1) Very nice site..I love this site very much..its like family tour represent in simple way..
~ Pritha Dasgupta (Blogger)
2) Thank u so much for this site..Site information is very good…~ Arka Haldar.
3) Incredible.. I just love the way of your presentation.~ Pallab Ghosh (Student)
For any type of queries drop us a mail at contact@exploretours.in or Or you may use this form

Thanks
Team Exploretours
My name is Supriya Kumar Mitra. Exploretours is a travel related blog. It is the diary of travel experiences of some passionate travelers.We are sharing our tour experience in this site..
Follow us On Social Media
Facebook | Instagram | Twitter | Google Plus | Youtube | Pinterest | Flickr | Tumblr